Alpe Devero Fondo
Skiing in the Veglia-Devero Nature Park
Devero Alp
Alpe Devero Fondo
Skiing in the Veglia-Devero Nature Park
A free cross-country trail
The ski slope develops on the Alpe Devero plateau, in the protected area on the edge of the Natural Park of Veglia-Devero. The environment is characterized by a large plateau with wide snow fields marked by isolated larches.  On the edge of the plateau, the larches forest becomes more dense, in order to give space to the high-mountain prairie higher up.
As well as Alpe Veglia is dominated by Monte Leone, the Alpe Devero basin is dominated by the big Cervadone. There are other interesting peaks that you can see from the plateau, such as Sangiatto and Cobernas mountains, that are visible from North-East.
The cross-country ski slope is characterized by a single ring 4km long. Difficulty: easy. You can also do partial rings of 2km (flat and with a maximum height difference of 10 meters).
Ski Area
1

Ski ring

4

kms of slopes
Take motorway A26 Volti-Gravellona Toce to Gravellona. Then follow the SS36 Sempione Road, through Domodossola, to the exit for Crodo. Get off the state road and go towards Baceno/Val Formazza, and when you get to the centre of Baceno, take the municipal road that goes up to Devero (7Km). Private vehicles cannot get to Alpe so park in the paid parking area below.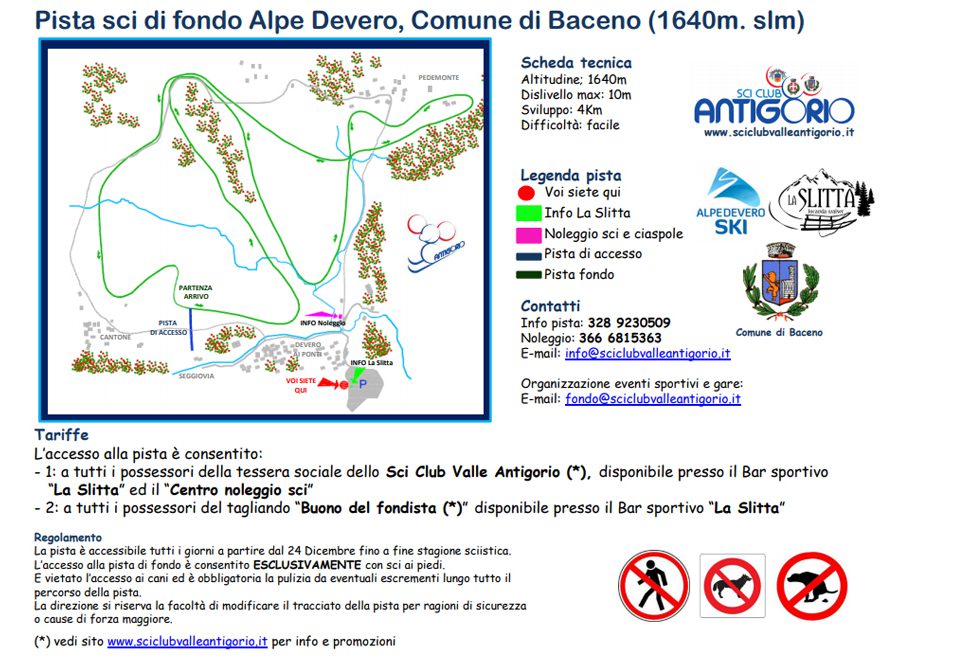 Lodges
Enrico Castiglioni (alt. 1640m, tel. +39 0324619126, rifugio custodito)
Bivouacs
Combi e Lanza (alt. 2409m)
Extra Services:
Cross Country Skiing

Bar

Equipment rental

Changing rooms/shower

Ski school

Ski waxing room

Large, free car park
Contacts:
Centro Fondo Formazza
Fr. San Michele
28863 Formazza (VB) – Italy

+39 345 7059555